CALL US FOR A FREE ROOF INSPECTION !!
OUR PRICES ARE VERY COMPETITIVE !!
DEAL WITH A QUALITY, RESPECTED MICHIGAN COMPANY !!
There are a lot of products today to beautify your house.
Certainteed, Mastic, Wolverine, Alcoa, are some of the vinyl siding used
in the Oakland mi and Macomb mi counties of Michigan.
There are many colors and styles of siding to pick from.
We install more soffit vents in most homes today
to give better air flow in the attic of the house.
We are a reliable Michigan Siding and Roofing Contractor,
We have served Rochester mi - Troy mi - Clarkston mi - Waterford mi -
White Lake mi - Novi mi - Utica mi - and most of the
Oakland mi - Macomb mi - Counties in Michigan -
248-652-2237
248-652-2237
586-254-1740
866-650-0753 TOLL- FREE
CLICK HERE TO: EMAIL US FOR MORE INFO OR A QUOTE
IN BUSINESS SINCE 1966
FOURTH GENERATION COMPANY
DEAL WITH A ESTABLISHED COMPANY
WHO HAS BEEN AROUND
AND WHO WILL BE AROUND
WHEN YOU NEED THEM!!!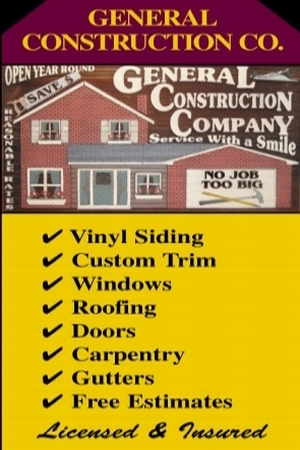 roof replacement, roof construction, roofing contractors, roof installation, roof fix, new roof, roofs, roof replacement, roof repair, metal roof, shingle roofing, flat roof, Detroit roof, house roof, roof deck, company, shingle roofing, roof shingles, tear off, flashing, vents, Michigan home, real estate, Siding, gutters, windows, carpentry, Utica Michigan, roof shingles, roofing Clinton mi, roofing Macomb Mi, roofing Washington mi, vinyl siding, Certainteed, Gaf roof shingles, contractor, roofing contractors mi, Macomb county mi, Oakland mi, Macomb twp mi, 48315, 48317, Utica Michigan vinyl siding, Shelby mi, Bloomfield mi, Birmingham mi, Clarkston mi, Novi mi, lake Orion mi, Ferndale mi, Clawson mi, Pontiac mi, Waterford mi, Highland Mi, Shelby mi, Our highly skilled, licensed, and experienced staff is insured and certified in roofing, siding, windows, and gutter contracting. Our area can get quite cold, causing us to have to deal with ice dams that can cause damage to your shingles, gutters, and even siding and interior due to water damage. we will not only repair your damages, but also prepare you and your home to prevent these types of problems in the future. Call Us if you are having ice dam problems, and be sure to take these precautions to avoid further damages: • Keep your attic well-ventilated to avoid snow and ice from melting and refreezing around your gutters. • Make sure your attic floor is well-insulated to minimize the heat rising from the house. • Let us install a water-repellent membrane - ice & water shield - under your roof covering.
248-652-2237